Anupam Debashis Roy
---
Anupam Debashis Roy is a Bangladeshi columnist, author and activist who is currently an editor of Muktiforum, a platform for writers, artists and activists dedicated to building a liberal, pluralist and pro-people society. He is most known for his columns and political activism against authoritarianism in Bangladesh and abroad. He is also the author of storybook Sontan (The Offspring) and Opraproboyoskota (Non-adulthood), a book of poems.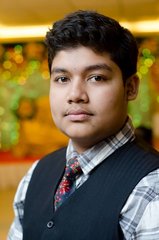 Aside from being an author an activist, Roy is also known for his satirical political videos published on YouTube and Facebook. His web series Choromchitro (The Radical Report) has been widely acclaimed. He has also made an explainer series in collaboration with Dhaka Tribune titled The Breakdown.
He is currently a graduate student of Political Science in Boston University and an incoming JD candidate at Harvard University.
Politics
Anupam has never shied away from his future plans of working as a politician. He had worked with the Republican Party (US) in the Pre-Trump era, leaving the party after its alt-right turn. Later he registered as a Foundation Member of the American Libertarian Party, but also left the party citing policy differences. He started the Howard University Liberty Forum while in college for political discussions between students from different political affiliations on campus and had moderate success. He has been an independent since his college days and has not registered with any party in any country, but has expressed partial support for the Liberal Democrats (UK) and Aam Admi Party (India).
He has identified as a Marxist, socialist, anarchist, libertarian and conservative at various stages in his life. Currently, he claims that he is neither left wing, nor right wing but he stands somwhere in the middle. His political views closely align with centrism and reformism while his ideological leaning is towards classical liberalism, even though he has claimed to have "divorced" himself from all ideological dogma.
In Bangladeshi Politics, he has been sharply critical of both of the established political parties, Awami League (AL) and Bangladesh Nationalist Party (BNP) along with its ally, Jamaat-e-Islami. He has expressed his disillusion from socialism and communism as well as left politics in Bangladesh as a whole. He is interest in building or joining a new third party in Bangladesh that is centrist, reformist, classically liberal and pluralist. His platform Muktiforum has claimed to be working towards this goal.
Early life
Anupam was born on May 14, 1997 in Syedpur, Bangladesh to Dulal Kumar Roy and Rita Rani Biswas Roy. His parents are from Bagerhat and Khulna in Southern Bangladesh.
Anupam's family moved to Chittagong in second grade, after spending a small period in Pakshi and Dhaka, and he went on to spend most of his childhood and adolescence there. He attended Saint Mary's School for kindergarten and later went to Chittagong Collegiate School.
In 2008, he participated in a talent hunt show called "Marks Allrounder" and became an overall Champion for his outstanding performance in acting, public speaking and recitation. He later (in 2009) rejoined the competition when it was turned into a national television reality show and became a finalist of the televised contest.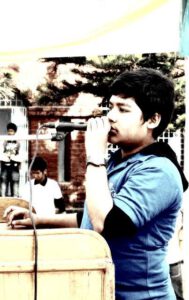 In 2009, He worked closely with his cohorts to start the student organization "Pothiktrit Collegiate" (Pioneers of Collegiate) to promote the practice of extracurricular activities among the students of Chittagong. To achieve this end, Anupam and his colleagues arranged a regional extracurricular festival titled "Pioneer Festival 2011" where a total of 8 contests ranging from Math contests to debate tournaments were held.
In 2012, the organization expanded the festival to a national level and almost doubled the number of competitions. "Pioneer Festival 2012" was featured in national news due to its extensive reach. Anupam was the President of the organization during both of these festivals. In 2013 a third rendition of the festival was organized by Anupam and his cohorts and in 2014, a new executive board took on the leadership of the organization and arranged yet another successful event.
Anupam moved to Dhaka to attend high school ("college" in the Bangladeshi education system) in Rajuk Uttara Model College, in Uttara, Dhaka. At Rajuk, he became the president of Rajuk College Debating Club and represented it in the Asian Schools Debating Championship.
Higher education and Research
In 2015, he graduated from high school and was promptly accepted at Howard University in Washington D.C with a prestigious full-tuition scholarship. At Howard, Anupam joined the debate club and started the Howard University Liberty Forum. In 2018, he became the secretary of the Abram Harris Economics Society at Howard Univesity.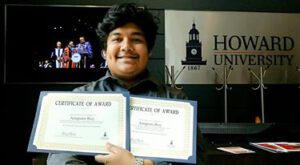 Anupam continued his research work alongside his political activism. His research on Political Science won the best research in social science and the best research overall (in any discipline) awards at the Howard University Research Week 2017. In the same year, he presented at the Ivy League Universities Research Symposium at University of Pennsylvania. In 2018, he won the award for best research in Ethics, Religion and Law at Howard University Research Week. He also presented at the Georgetown University India Ideas Conference and VCU Political Science Student Research Conference on the same year.
In the Spring of 2017, Anupam was accepted for the Howard-Columbia Domestic Exchange Program and went to live in New York for four months. In New York, Anupam worked at the Manhattan Institute for Policy Research and conducted extensive independent research in social movements, international law, postcolonial studies and South Asian politics.
At the end of the semester, he was able to finish his first research paper on social movements and political Islam. The work was first published  as a working paper at the Bangladesh Research Working Paper Series. The working paper is also available on SSRN and RePec. When finalized, the paper was published in the peer-reviewed journal South Asia Research. During his time in New York, he also involved in some activism work. He attended and spoke at various rallies and protest events on the Rohingya genocide in Myanmar.
In 2018, he took a graduate level course at Georgetown University with longtime Middle East peace negotiator Amb. Dennis Ross for increasing his understanding of the field. He also started working as a student research fellow at the Georgetown India Initiative. He also worked as a remote research assistant for a Columbia SIPA project.
In 2019, he graduated magna cum laude from Howard University with a Bachelors degree with honors in Interdisciplinary Studies: International Affairs, a subject with elements from Political Science, History, Economics and Philosophy.
He was accepted for a PhD program in Political Science at Boston University and at the JD program at Harvard Law School. He also became the finalist for the Rhodes Scholarship at the University of Oxford in 2019 and 2020.
Professional Career
Anupam started his professional career as a freelance tutor. He started tutoring when he was enrolled in High School in Dhaka. There he had started a tutoring business with his friends that had to be discontinued after he had moved to the US. An attempt at continuing the business was made through distant learning, but this promptly failed.
Once in the US, Anupam used his experience in tutoring to get an internship at a reputed tutoring agency in Mclean, Virginia. In 2016, he was offered a position as a full tutor at another company and moved on to work in that position for more than one year.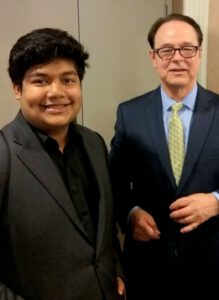 In the Spring of 2018, Anupam accepted a position at the Cato Institute as a Foreign Policy Intern. He is working closely with the scholars there to develop his skills in forien policy analysis and expand his expertise in the Middle East and South Asia region.
During the summer of 2018, he started working for the Center for Responsive Politics, Brownstein Hyatt Farber Schreck and the Peter G. Peterson Foundation.
After graduating in 2019, he moved back to Bangladesh and took his first full-time job at one of largest circulating English dailies in the country, Dhaka Tribune, as a sub-editor and columnist. He also continued his work with Muktiforum to consolidate it as an alternative media platform as well as an activism network.
Writings
Anupam started writing at a very young age. His first poems were written at the age of eight and are included in his first book of poems, Opraptoboyoskota (Non-adulthood). Published in 2016, this book contains Anupam's poems written between then and the age of eighteen. He soon started writing fiction and his first book of short stories called Sontan (The Offspring) came out in 2014.
Anupam started blogging about politics and society in 2014 on Bangla blogging platform Somewhereinblog and Blogger. His blogs soon became mildly popular and one of his works was published in The Ittefaq, a national Bangla daily with a large circulation. Eventually he became a freelance columnist for all major Bangla and English dailies in Bangladesh including Prothom Alo, The Daily Star and Dhaka Tribune. In 2017, he became a regular contributor at the Dhaka Tribune was later brought in as a weekly columnist, writing under the title "Letters of Liberation."
Aside from these, Anupam has also written stage plays and novels. His play is scheduled to be staged in Dhaka University in December, 2019. He has also publicly stated that he has two novels in the works, one English and one Bangla. They are tentatively titled "Oder ar Keu Kokhono Khuje Pabe Na" (They will never be found) and "Aequalis: A Tale of Tellers." The Bangla novel is scheduled to be published in the 2020 Ekushey Book Fair.
Personal life
Anupam currently lives in Dhaka, Bangladesh with his family. He has previously lived in Washington DC and New York.
On religion, Anupam has stated that he believes in a supernatural entity, but it does not exactly follow the versions worshiped by current mainstream religions practices. However, he is strongly influenced by the Hindu dharma, meaning the Hindu philosophical tradition and thought. He often remarks that he is "a Hindu outside of Hindutva." He is certain that his religious beliefs would fit into some of the schools in Hinduism which are less mainstream by practice in the current world, especially the Vedanta school.
He also considers himself a Buddhist by practice, and maintains that one does not need to officially convert to the Buddhist religion in order to follow its teachings.
His personal interests include reading books, watching movies, listening to music, surfing Wikipedia articles and travelling.
Anupam suffers from clinical depression and bipolar disorder. He has discussed about his struggle with this illness in his Dhaka Tribune columns.
Bibliography
Research
Shahbag Stolen? Third Force Dynamics and Electoral Politics in Bangladesh (2018). South Asia Research, 38(3_suppl).
Saving What Never Was: Legal Frameworks for Protecting Indigenous Land in the Chittagong Hill Tracts. NYU Undergraduate Law Review, Vol1, Issue 1.
Literature
Opraptoboyoskota (Non-adulthood), Somoy Prokashon, 2015
Sontan (The Offspring), Roy Prokashoni, 2014
See Also